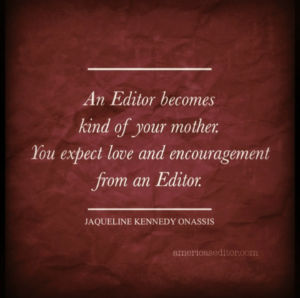 This first appeared as a guest blog post on author Cynthia A. Rodriguez's site. 
Self-publishing and small presses are redefining the publishing world, and I love it. Authors can now select publishing services à la carte, and new voices are reaching the reader with more purity and raw emotion than ever before. However, for writers who are serious about having a long-term, successful career as a novelist, one aspect of publishing that is not optional is developmental editing.
The question writers should be asking isn't, "Do I need an editor?" Even editors need editors. (Thank you, Melody, for checking this post.) The real question a serious writer should ask is, "Who will be my editor?" Your editor will be your and your manuscript's long-term friend and enemy—frenemy, if you will. Typically, your editor will love your manuscript and you will dislike your editor for making them change any of it. Today I'll share with you a broad overview of the main differences between a good, great, and ideal editor.
A good fiction editor reviews your manuscript's premise, plot structure, pacing, characters, dialogue, and marketability. A good fiction editor identifies weak points and makes useful suggestions for story and character development while ensuring continuity. A good fiction editor is professional, always meets deadlines, keeps a style sheet, and treats you with respect.
A great fiction editor does all of the things a good editor does while understanding your vision, loving your characters, and preserving your voice and writing style.
An ideal fiction editor does all of the things a great fiction editor does but also knows when to motivate and guide you and when to keep their mouth shut. They get to know your personality and writing process, and they offer only as much help as you actually need. An ideal fiction editor might suggest that there is a character that will eventually need to die but won't name names. When all is said and done, the manuscript remains yours.
At a book signing once, the author was asking the people he was signing books for what they did for a living. Based on their reply, he wrote something witty before signing his name. When it was my turn, I told him I was a book editor. He said nothing and signed his name. Just his name. No witty comment. No further eye contact. I think it's safe to say that he does not have an ideal author–editor relationship.
If you follow Cynthia's blog, you'll know that her and I do have the ideal author–editor relationship. It was easy in this case because Cynthia is a talented writer, Mystic Waters is spellbinding, and I am in love with the characters.
However, I do not think that I am everyone's ideal editor nor is everyone my ideal client. I experience literary heartache over fictional characters, and I do not give my literary heart to just anyone. A novelist should be as careful about giving their manuscript to an editor, but they should certainly get a developmental editor. The sooner you cultivate an author–editor relationship, the better it will be for your writing.