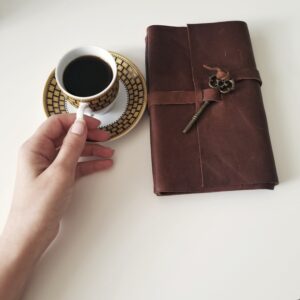 I'm a big proponent of the idea that a writer can and should write anywhere, any chance they get. Sentences jotted down in a pocket notebook or on a note app throughout the day will accumulate into paragraphs over time. Life is busy, and dedicated writers will do what it takes to get their words down.
However, it is also essential to carve out substantial writing and rewriting time if you're going to produce worthwhile material. It can be challenging to shift from regular life to your writing life. If you have an hour in the day of uninterrupted time, you're supposed to be able to sit and write fluidly for the full sixty minutes. This isn't realistic for most people, and you might find yourself staring at your screen for the entire hour, which only adds to the already frustrating life of a writer.
This is where a writing ritual can come in handy. Anything that tells you you're about to start writing can serve as a writing ritual. The performance of the ritual serves to get your mind into author mode so that you can make more efficient use of your writing time.
Create something unique to you
Whether you brew a pot of tea before beginning or wear a certain hat while writing, the ritual should be something that is unique to you. Perhaps you place a talisman front and center or listen to a certain song before beginning to write. One writer I know says, "Let's begin" at the beginning of each writing session and then gets right to it. Amazing.
When you first start performing a writing ritual, it might not result in a flurry of words bursting forth from your mind onto the page, but after one or two good writing sessions in which you've performed a writing ritual, it will get easier to switch into author mode.
Your writing ritual could also serve to let your household know that you're writing and curb an interruption or two. Considering how many times I've been interrupted while reading a book, I have to wonder if I'm being too optimistic in thinking you'll actually be left alone to write. It's worth a shot, right?
Should you create a closing ritual?
In the same way that the opening ritual signals you're about to begin writing, a closing ritual signals to your mind that the writing session is over. Depending on your opening ritual, the closing ritual might be obvious to you: take off the writing hat or piece of jewelry; put away the talisman; clean the teapot or coffee mug; listen to a different song.
A closing ritual is not crucial for everyone. You might think that a closing ritual would put an unwanted boundary on your creativity or limit you in some way. You might not find it necessary because it's a lot easier to stop writing than it is to start. But what if you don't live alone?
A closing ritual can signal to those around you that you're done writing for the moment, which can be especially helpful if you're usually in front of a computer screen performing multiple tasks throughout the day. You don't have to run around telling everyone you're done writing; you can simply take off the clown nose and move on to the next computer task.
Do you already perform a writing ritual? I'd love to hear about it.