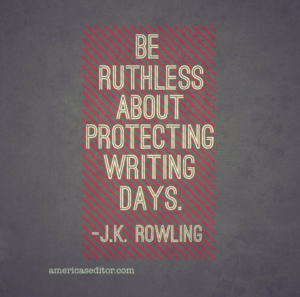 J. K. Rowling's advice about protecting writing days is fanciful. Days? How often does the average writer get a full day just for writing?
Work, school, and family obligations keep most writers I know from ever enjoying so much as half a day to themselves. However, Rowling is correct in using the word "ruthless"; writers need to be unflinching when it comes to their writing time.
Set boundaries
In order to manage whatever writing time you get, you must set boundaries.
It's important to let anyone who might overstep those boundaries know what you expect during your allotted writing time. Your family and friends need to know to leave you alone. It helps if you can be specific. Saying "I'm going to write for an hour" instead of "I'm going to finish this scene" might actually result in an uninterrupted hour of writing time.
Let go of the guilt
When you have a stretch of time during which to write is when people will most want to spend time with you. This is an unexplained phenomenon similar to what happens when you sit down to read.
Write first and spend time with them later. It's nothing to feel guilty about.
Don't sabotage yourself
Sometimes getting other people into the habit of respecting your writing time is easier than getting into the habit yourself.
Don't answer the phone thinking you'll be able to get off the call in a few minutes. If you went to a coffee shop to write but did more people-watching than writing, don't go there again. Turn off the TV.
Time management starts with saying "no"; drawing boundaries is more like saying "not right now." It's the crucial second step to having enough time to write.