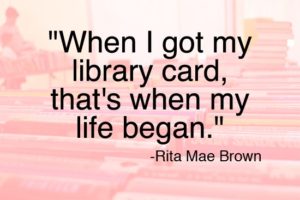 In a pilot program last year, Rochester got rid of overdue fees for children's materials. The result was a "10 percent increase in library cards issued and more materials being checked out." Imagine that.
The program is now permanent. "The idea is to remove barriers to reading. Young people no longer have to worry about losing library privileges because of overdue fees."
Some might argue that there is a sense of responsibility being taught in late fees. However, kids are usually at the mercy of their caregivers for transportation. When a library book is returned is not up to the child.
My main happiness over this news is for the slower readers—the kids who are learning, improving, and savoring.
I hope more libraries follow suit. You can read the AP article here.